Uluwatu Tour
Itinerary :
Water Sport activity
Balinese SPA
Padang Padang Beach
Uluwatu Temple
Seafood Dinner at Jimbaran Bay
Water Sport activity

Bali is famous for very fun and exciting water sports: Jetski, Banana boat, Parasailing, Flying fish, Scub diving, Snorkeling, Glass Bottom Boat & Turtle Island, Rolling donuts, Seawalker, Water skiing, and Wakeboard.
Balinese SPA

Balinese Spa is a Bali Tour package which offer the best Bali Spa packages with lowest price that you should try during your holiday in the island of paradise. Enjoy Balinese apa massage and other treatment with a professional and experience theraphists will give you and excellent therapy care for refresh your mind and body.
Bali Spa provide Balinese style of Spa treatments with blend of ancient therapeutic remedies & modern day Spa rituals to be healthy, rejuvenate & well being. Through the healing hands of superbly trained therapist, we present only natural ingredient blend of products, the purest natural selected oils, herb & spices to deliver the ideal refuge for relaxation & rejuvenation.
The Balinese believe that the body, mind and spirit work in harmony. The health and well being of all make the whole happy. Enjoy this delightful blend of massage techniques: traditional Balinese massage, reflexology, face and hand massage. Results in improved circulation, released muscle tension, and soothing relaxation.
Padang Padang Beach

Padang Padang Beach, locally referred to as Pantai Labuan Sait, is one of Bali's most famous surf spots, located on the north-western coast of the island's Bukit Peninsula, and just a kilometre southwest of the Anantara Bali Uluwatu. This beach features an exotic setting; a simply stunning one hundred meter-long stretch of sand that is accessible down a flight of stairs through a unique hollow rock entrance. The surf has a steady set of barrels during good weather, attracting wave riders from around the world.
Uluwatu Temple
Uluwatu Temple is one of Balinese Hindu Temples located right on the petrifying hill with the crevasse exist in the right and left side. Uluwatu Temple sits on a 70-meter-high cliff protruding above Indonesian Ocean. We will stop to visit this temple during Uluwatu Tour. Uluwatu Temple is one of Sad Khayangan (6 biggest temple in Bali) owns magnificent view of the Indian Ocean and sunset as a backdrop. Uluwatu temple is very amazing and there area also the group of monkeys dwelling the small forest around the temple. They are believed to guard the temple from bad influences.
Seafood Dinner at Jimbaran Bay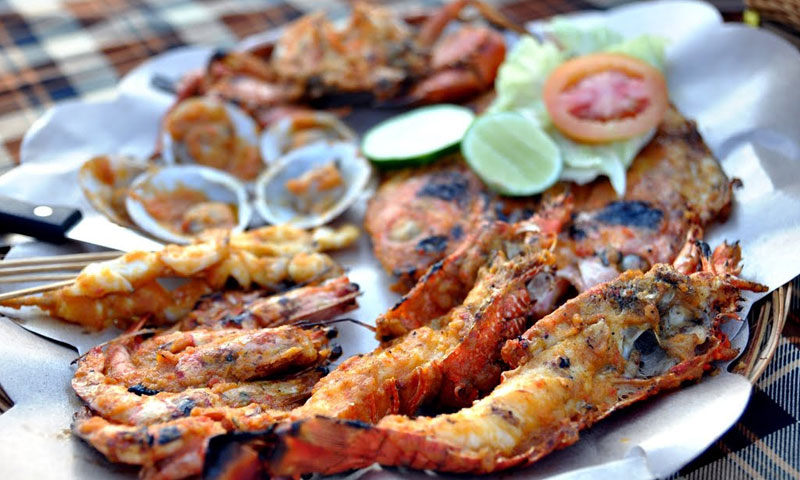 Jimbaran Bay Beach is a beautiful beach located in the southern part of Bali with white sand unfolding along the coastal. The last stop during Uluwatu Tour is visit this restaurant for having fresh seafood dinner. There are plenty of cafes offer delicious of seafood dinner with breathtaking view of Indian Ocean . It is served right on the beach with beautiful table set up apposite to the ocean. The chefs fire up their outside kitchens and prepare their menus of fresh seafood. The chef have special recipe make the food more delicous and will make you want again.